The Department of Economic Informatics and Cybernetics, Faculty of Cybernetics, Statistics and Economic Informatics from the Bucharest University of Economic Studies and the Romanian Association for Informatics in Economy Training Promotion – INFOREC, organise The 16th International Conference on Informatics in Economy (IE 2017).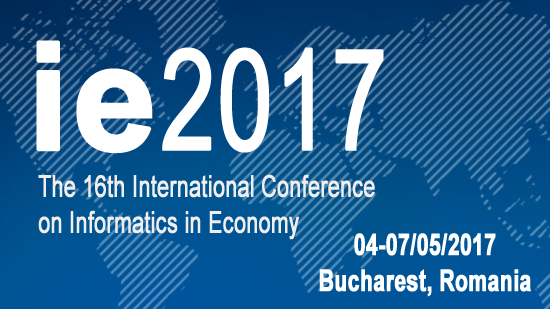 IE 2017 Speakers
Indexing
The IE 2016 Conference Proceeding Volume will be sent to Thomson Reuters for indexing. The IE 2012, IE 2013, IE 2015 and IE 2016 volumes have already been indexed by

The IE 2014 volume is currently submitted to Thomson for evaluation.
The IE 2017 conference will be announced in:

Sponsors



Papers
All accepted papers of the conference will be published in Proceeding of the 15th International Conference on Informatics in Economy (ISSN: 2247 – 1480), Education, Research & Business Technologies.The conference volume will be indexed in RePEC and will be sent for evaluation to ISI Thomson Reuters.
In addition to publication in the conference proceedings, the authors of the conference papers will be invited to publish an extended format and will be indexed by major databases:
ISI Thomson Reuters Services
Directory of Open Access Journal
Cabell's Directories of Publishing Opportunities
EBSCO (Business Source Complete)
ICAAP
Index Copernicus
Index of Information Systems Journals
Inspec
Open J-Gate
ProQuest Computing
Ulrich's Periodicals Directory